How to Run a Race Night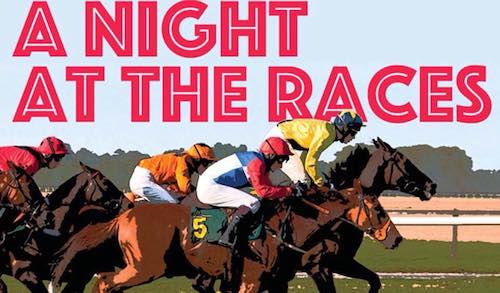 NOW BOOK YOUR RACE NIGHT ONLINE HERE!
Race Nights are a great way to raise money for your charity, club, school or society. Race nights are also excellent for team building events and hen/stag nights!
You can use real money but profits must be allocated to a charitable or sporting cause.
How do you raise income?
Sell tickets to the event (£10)Sell race cards on the night (£5)Sell horses for each race (£2)Sell riders for each race (£2)Sponsor each race (£10)Sell separate draw tickets (£5)Sell bets for each race (£1-£5)
You can choose here to book in a Professional Race Night Operator or hire/buy the package and operate yourself.
When you have decided, this is what Equipment you will need and How the Race Night works:
NOW BOOK YOUR RACE NIGHT ONLINE HERE!
Equipment
A projector system, either old style cine film or video projector with a dvd player or laptop with dvd drive.Large Screen to make the race night visible to all.PA system so that you can be heard! Tickets to sell for the horses, dogs, pigs etcTables and chairs for selling tickets.Theming and decoration.
How the Race Night works
First explain to the audience that you are using a tote system that pays out to the winners on each race. A percentage of the income (25-50%) is retained for the charity, club, school or society, and the remainder is divided between the winning tickets.
The price of the tickets is your decision and depends very much upon your audience. The more you can charge the more money in and more for your charity!
The tote is then open and punters come to the front table to place their bets.
The tote is then closed and a member of the public gets to randomly pick the race (keeps it legal) and the race is run. The films have their own commentary but the PA allows you to add your commentary skills.
The race is run and you payout the lucky winners while retaining the amount back for the charity (25-50%).
How does the Payout get calculated?
Don't panic. It is quite simple. Here is an example:
Total money in from betting: £100
Money back for charity: £50
Payout total: £50
Ten winners: £5 each (£50)
After all of the winners have collected their money the tote is re-opened and the whole process is repeated for all of the races you are running.
NOW BOOK YOUR RACE NIGHT ONLINE HERE!
You will normally have 8 races and it is a good idea to keep the last race free of owners so that you can have a bidding system to own the horse. This creates a lot of fun and money as syndicates or groups of individuals get together to outbid the next table for the honour of bestowing their group as owner. Great fun!